OUR RABBI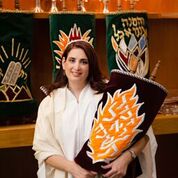 Rabbi Aviva Bass grew up in Coral Springs, Florida where she graduated from J.P. Taravella High School.  A classically-trained soprano, Rabbi Bass studied vocal performance at the University of Miami, where she graduated Magna Cum Laude in 1992, obtaining her B.A. in Music degree with a double major in Judaic Studies. 
From 1993-2000, Rabbi Bass studied at the Reconstructionist Rabbinical College in Wyncote, PA, concurrently studying at Gratz College in Elkins Park, PA, completing this study in 1999 with an M.A. in Jewish Education degree, and in 2000 with rabbinic ordination and her M.A. in Hebrew Letters degree by the Reconstructionist Rabbinical College.  Rabbi Bass is a proud member of the Central Conference of American Rabbis and is committed to enhancing unity and connectedness among Reform Jews; applying Jewish values to a contemporary life; and, creating a compelling and accessible Judaism for today and the future.
She has served congregations as a rabbi, Cantorial soloist, and educator, at various locations around the United States as well as in Australia and New Zealand.  She is the proud mother of twin sons, who are the light of her life and her inspiration.